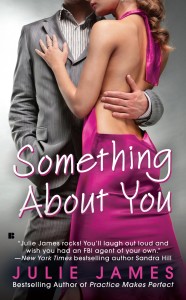 Who doesn't love free books around the holidays? My awesome publisher (Berkley) is giving away even more books from my backlist! So we've now got copies of my first three books (Just the Sexiest Man Alive, Practice Makes Perfect, and Something About You) up for grabs.
If you've never read me before, or you've only read some of my books, or if you've read all my books but would love to have another copy for yourself or a friend, here's the rundown of all the giveaways that are going on right now. (Click on the links to enter)
Five copies (5) of Something About You (FBI/US Attorney series #1) at my Facebook page. [click on the "Giveaway" tab underneath the header]
Twenty-five copies (25) of Just the Sexiest Man Alive at Goodreads.
Twenty-five copies (25) of Practice Makes Perfect at Goodreads.
Good luck to everyone who enters, and happy holidays!
Please note: you must follow the links above to enter the various giveaways–leaving a comment below doesn't count. (Although you are still welcome to comment just to chat.)  : )