Fate has thrown two sworn enemies…
Of all the hotel rooms rented by all the adulterous politicians in Chicago, female Assistant U.S. Attorney Cameron Lynde had to choose the one next to 1308, where some hot-and-heavy lovemaking ends in bloodshed. And of all the FBI agents in Illinois, it had to be Special Agent Jack Pallas who gets assigned to this high-profile homicide. The same Jack Pallas who still blames Cameron for a botched crackdown three years ago—and nearly ruining his career…
…into each other's arms
Work with Cameron Lynde? Are they kidding? Maybe, Jack thinks, this is some kind of welcome-back prank after his stint away from Chicago. But it's no joke: the pair is going to have to put their rocky past behind them and focus on the case at hand. That is, if they can cut back on the razor-sharp jibes—and smother the flame of their sizzling-hot sexual tension…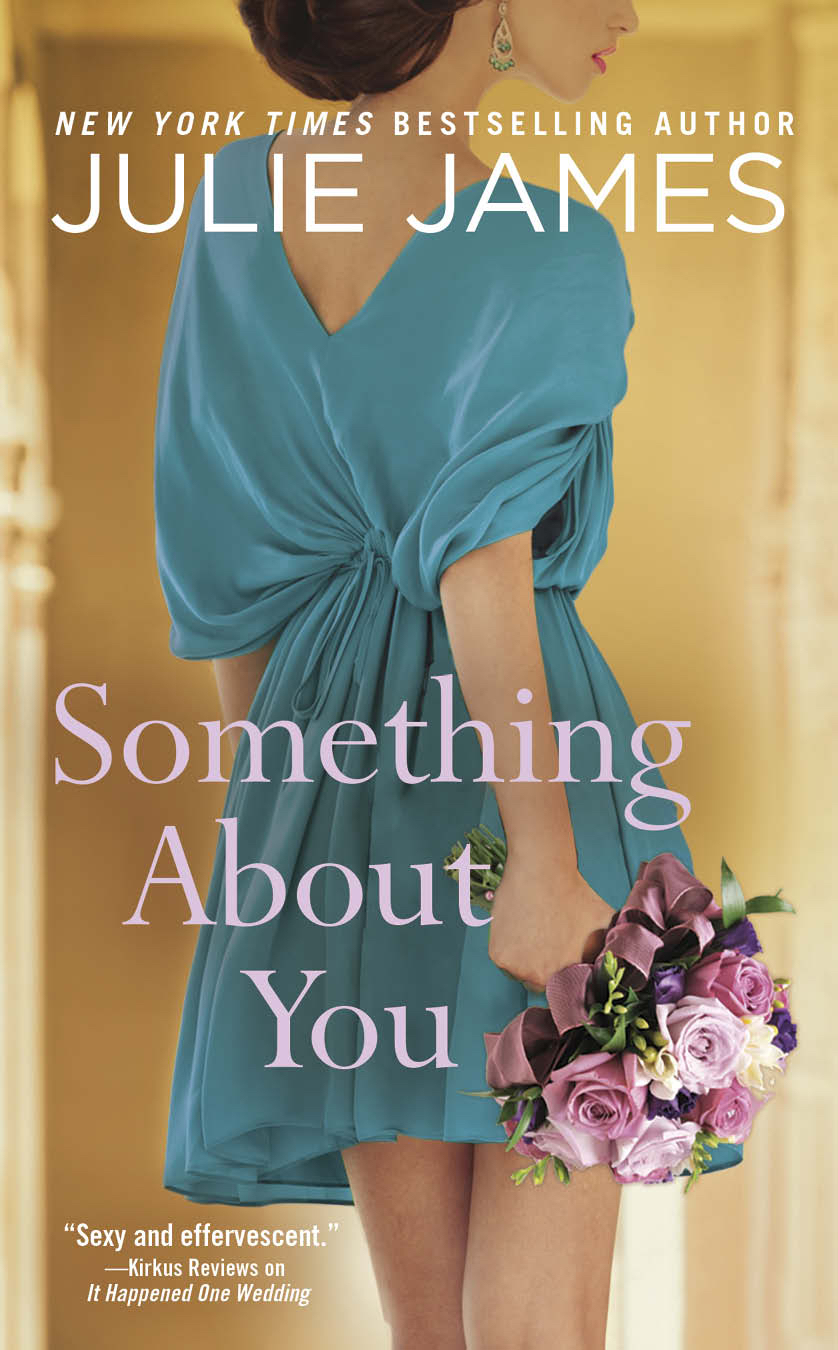 Buy the Book
READING LIST FOR TOP GENRE NOVELS, AMERICAN LIBRARY ASSOCIATION READERS' CROWN AWARD, BEST CONTEMPORARY ROMANCE HOLT AWARD OF MERIT, MAINSTREAM/SINGLE TITLE BEST CONTEMPORARY ROMANCE OF 2010, AAR READERS' POLL
"Julie James rocks! You'll laugh out loud and wish you had an FBI agent of your own." — Sandra Hill,
New York Times 
bestselling author "James' latest novel delivers an addictively readable combination of sharp humor, sizzlingly sexy romance, and a generous measure of nail-biting suspense." 
—The Chicago Tribune
"How do I like this book? Let me count the ways. . . . a heroine who is smart, acts smart. . . . good at her job and follows her professional principles[.] And then there's the hero who is portrayed as being as sinfully delicious as a double fudge chocolate cake with chocolate chips on top. And whipped cream. . . . The dialogue is fantastic. Smart, snappy, funny yet realistic. I can't count the number of times I laughed while reading the book. . . . this is one book I can totally recommend." 
—Booklist
"James has crafted another sizzling, vibrant contemporary legal romance set in her hometown, with edgy banter and edge-of-your-seat encounters between the forces of law and those corrupted by access to power." 
—Dear Author
[showhide type="text" more_text="← view more acclaim" less_text=""  hidden="yes"]"I don't think I can do justice to how freaking fun this book is. Something About You is a perfect storm of awesome. From first impressions to the last page, it's worth shaking your tail feather over . . . from the first scenes, the dialogue is dry champagne crossed with poprocks. (That's a good thing.) It crackles, it's funny, it makes you laugh, and it isn't ever fake or cliche or completely unrealistic. . . . This is a contemporary romance well worth savoring, and laughing over, and reading all over again." 
—Smart Bitches, Trashy Books
"I'd long heard great things about Julie James's novels, and
Something About You
lives up to the hype. . . .
Something About You
is one of the most sophisticated contemporary romances out there, and James writes a smart, tough, yet extremely appealing heroine. . . . This is a must-read for those searching for a smart romance with great characters and a no-holds-barred plot." 
—Sacramento Book Review
"I tend to be skeptical about online buzz, and I've seen a lot for Julie James' romances. Well, I get it now. Something About You is a fun contemporary romance filled with witty, well-developed characters, and it is a book I heartily recommend. . . . I really loved this book. When I finished, I wanted to start reading it again." 
—All About Romance (Desert Isle Keeper)
"Something About You is just plain fun! James is a master of witty repartee and the dialogue between the two main characters is seriously entertaining. While the plot is enjoyable and moves the story along quite nicely, it's the two characters that drive the story. James' story offers two strong, compelling and delightful characters that absolutely must end up together. " 
—RT BookReviews
"If you are a fan of contemporary romance novels, you will love 'Something About You,' and you will most likely be anxious for James's fourth novel. If you love thrillers with some romance thrown in, try James's book—you won't be disappointed." —
The News-Gazette (Reviewer Top Pick)
"Spicy sexual tension and a storyline that grabs from page one and never gives up. . . . SOMETHING ABOUT YOU was a one-sitting read for me. . . . There's definitely something about Julie James and her penchant for putting a smile on the reader's face and a tickle in the middle." 
—Fresh Fiction
"It just keeps getting better with each and every book. . . . Something About You was an entertaining read from cover to cover. It had everything you could want in a great contemporary setting. Characters that leaped off the page, a storyline that kept you interested and a hero that was just to smexy for words." 
—Book Binge
"Julie James is making a name for herself as the author of witty, sharp contemporary romances. . . . Something About You has lots of sparkling dialogue and humorous situations. It also has a tough, brainy heroine, a coolly macho hero, and a great cast of secondary characters. . . . James is a promising new romance author." 
—The Romance Reader
"Ms. James has taken the contemporary romance and added her own unique style to it. . . She once again does it with hilarity, smart aleky and witty one liners, characters you can't help but love, a plot with enough mystery to keep you turning pages and sex scenes steamy enough to relieve the winter dryness of an entire house. " 
—Night Owl Reviews
"From the first page until the last, Julie James knows how to keep a reader entertained with her amusing repartees and hilarious, argumentative characters. Something About You pits a stubborn woman against a man who has had to fight for his very life many times over. Add a sexual tension thick enough to ooze off the page, a man determined to kill anyone in his way, and a murder investigation involving the social elite, and this makes for a winning novel. You could not ask for a better book to read and this author never fails to impress me." 
—Coffee Time Romance
"Julie James hit one right out of the park[.] The dialogue in this book is wonderful… the plot of this story is very fast paced, has great action scenes, and involves corruption, a conspiracy, and a murderer stalking our heroine. There are plot twists and surprises that had me biting my nails. The sexual attraction and tension literally zings between Jack and Cameron. . . I had trouble putting Something About You down." 
—Closetwriter
"Julie James is on a serious roll with her writing. [S]he is now 3 for 3 with me, slamming those home runs outta the ballpark with her stunning sexual tension and clever dialogue. . . A most satisfying read that I hated to see come to an end." 
—Stacey's Place on Earth
"Jack Pallas and Cameron Lynde – what can I say about these two lead characters that will tell readers just how much I adored the both of them?…. [A] suspenseful, humorous, and truly sexy read. . . . SOMETHING ABOUT YOU showcases Julie James' remarkable writing ability by establishing her as one of the newest and most talented comedic contemporary authors today!" 
—The Romance Junkies
"You know the Cover Girl catch phrase, 'easy, breezy, and beautiful'? These three words come to mind when reading a Julie James' book. And that is the case with Something About You . . . Julie is seriously one of the best contemporary authors I can think of[.]" 
—Babbling About Books
"Oh Julie James, there is just something about you, about the way you write. . . . Your heroes and heroines are sharp, intelligent, sarcastic, funny, relateable. All around well-developed enjoyable characters. We like them. We want to find out what happens to them. We root for them…. I recently had the pleasure of reading Something About You . . . Let me tell you, Ms. James does not disappoint[.]" 
—Desert Island Keepers
"Julie James has done it again! She has penned a smart, witty, and romantic story infused with humor, suspense, and some serious sexual tension[.] Ms. James is quickly on her way to becoming a queen of contemporary romance. . . . Whether you sit outside in the breeze, lay out by the pool, or curl up by a fire, Something About You is just the right book for any occasion!" 
—The Romance Dish
"Another great Contemporary novel by Julie James, a book which carries her signature: great dialogue and captivating characters." 
—The Book Smugglers
"Delightful, light-hearted, romantic romp. Hard to put down! Julie James never fails! Something About You is hilariously funny, the humor coming from the characters' interaction and/or thoughts. Within the first few paragraphs of Chapter One, I was alternately smiling, chuckling or bursting with laughter." 
—The Raving Readers
"You can count on a good time with a Julie James book and that's what I love about them. . . . Something About You is an utterly enjoyable read from cover to cover." 
—Angieville
"With her first two novels, Julie James gave us contemporary romance for adults: witty dialogue, intelligent humor, incredible sexual tension, and flawed but lovable characters to care about and root for. I'm happy to report that Something About You makes it a hat trick for Ms. James." 
—Read, React, Review
"Julie James has done it again. She wrote another winner! . . . Something About You was fun and flirty and sexy and all kinds of good stuff. It gets a solid A from me." 
—Thrifty Reader
"Julie James has penned an entertaining, fast paced and well written tale to make it a highlight of my reading year. Make it yours by picking up SOMETHING ABOUT YOU." 
—Romance Reviews Today
"This fantastic novel does not disappoint – the dialogue is witty and the characters well developed." 
—Chicklit Club
[/showhide]