He's playing games.
Though Rylann Pierce tried to fight the sparks she felt for billionaire heir Kyle Rhodes the night they met, their sizzling chemistry was undeniable. But after being stood up on their first date, Rylann never expected to see him again. So when she finds herself face-to-face with Kyle in a courthouse nine years later, she's stunned. More troubling to the beautiful assistant U.S. attorney is that she's still wildly attracted to him.
But she's making the rules.
Just released from prison, Kyle Rhodes isn't thrilled to be the star witness in a high-profile criminal case—but when Rylann comes knocking at his door, he finds she may be the one lawyer he can't say no to. Still as gorgeous and sharp-tongued as ever, she lays down the law: she doesn't mix business with pleasure. But Kyle won't give up on something he wants—and what he wants is the one woman he's never forgotten. . .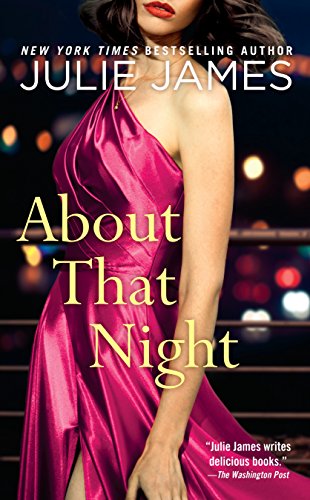 Buy the Book
Best Contemporary Romance of 2012, AAR Readers' Poll
"James' latest novel is sweet and spicy. The author paints a picture of missed opportunity and a reunion filled with fast quips and chemistry that heats up the pages. Readers will love the back-and-forth between the main characters, but throughout the book the rest of the cast of characters and the story is a fantastic romantic comedy. This one would be great on the big screen."–
RT BookReviews Magazine
(Top Pick) "I am completely in love with this book. . . [T]he book was so modern and in today's world it was easier to relate to the characters. The book moved from the very first page to the very end of the book. I honestly have to go out and buy the other books by this author. I think I have found another favorite author to add to my collection."–
Night Owl Reviews
(Reviewer Top Pick) "ABOUT THAT NIGHT is Julie James's best book to date! . . . [It] should be on every contemporary romance readers' April 2012 to-buy list! It is utterly enchanting, sensual and fabulous. Julie James gives a robust voice to contemporary courtships! Amusing and sexy, Julie James books are flirtatious temptations for every reader." –
Romance Junkies
[showhide type="text" more_text="← view more acclaim" less_text=""  hidden="yes"]"
About That Night
 is another terrific contemporary romance from the talented Julie James… [I]f  you enjoy reading smart, sexy, fun contemporary romances, you simply MUST read Julie James's books. Every single one she has written is on my keeper shelves—they are that good."–
The Romance Dish
"It isn't too often that the hero of a romance novel is an ex-convict who is indeed guilty of the crime for which he was convicted…. However, Julie James knocks it out of the park. "About That Night" has it all – a hot and steamy romance, a compelling story that doesn't take itself too seriously, and characters that impress…. The romance is absolutely delicious, and Kyle is one of the most memorable heroes of 2012. This is undoubtedly one of my favorite romances of the year, and one I will be re-reading for years to come." –
Romance Novel News
"Julie James writes contemporary romance for today's reader.
About That Night
is a timeless love story with sparkling wit and the sizzling conversations that suck you into Kyle Rhodes' and Rylann Pierce's romance as though you were one of their circle of friends."–
The Good, The Bad and The Unread
"[A] strong recommend for those who like funny, sweet contemporary romances."–
All About Romance
"Reading a Julie James novel is like eating an ice cream sundae. It's tasty, decadent and oh so good…. About That Night is fun time reading and the best contemporary romance I've read so far this year."–
Babbling About Books
"Julie James writes such smart books. She seamlessly combines courtroom drama and legal issues into a very sexy romance, with witty dialogue and hot bedroom scenes."–
Smexy Books
"There is so much about this book that I loved. Characters that are snarky, sarcastic, sassy, and have great one-liners. Sexual tension that leaps off the pages."–
Book Reading Gals
"At its best, romantic comedy is a genre in which the protagonists, realistically drawn adults who are equals in mind, body, and spirit (although not always in social status) meet, engage in quips and ripostes, encounter obstacles (often their own confusion), and ultimately understand that the other is the right person for him/her. . . This is the pattern of Beatrice and Benedick's relationship in Shakespeare's  
Much Ado About Nothing
. It is the pattern of classic romantic comedy films such as
It Happened One Night
. It's also the pattern of About That Night, the third book in Julie James's FBI/U. S. Attorney series."–
Heroes & Heartbreakers
"
About That Night
 abounds with laugh out loud moments, sarcastic, clever one liners, but moreover there is emotion, and great depth to the characters she crafts for her well researched and plotted story. Memorable secondary characters assist in advancing a fast paced romp that has a number of surprises in store."–
Book Lovers Inc.
"Julie James keeps hitting it just right on all levels – humor, story, sexiness – with her FBI series…  She delivers every single time with characters that are so easy to fall in love with and stories that are fun and fast paced. . . . ABOUT THAT NIGHT is a book that all fans of contemporary romance must check out."–
Happily Ever After
"Julie James writes stories with smart characters, stories that hold your interest from beginning to end… Both Rylann and Kyle were refreshingly charming and I loved them both."–
The Book Binge
"James is a "sure thing" for a captivating, sexy, contemporary read.  Ms. James seasons her FBI series with her own personal knowledge of the legal world and then develops sizzling and enticing characters to live and find love within the pages…. About that Night is a sexy, sizzling addition to the FBI series[.]"–
Fiction Vixen
"In the delightful follow-up to
A Lot Like Love
, ABOUT THAT NIGHT, readers get a chance to really get to know Kyle Rhodes. . . . Thanks to the likable characters and the captivating romance that will make you want to read the story all over again, I'm awarding ABOUT THAT NIGHT a Perfect 10."–
Romance Reviews Today [/showhide]