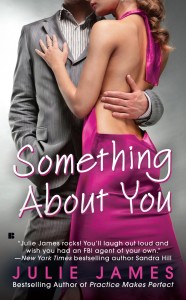 Many of you have asked whether any of my last four books are going to be available as audiobooks (currently, JUST THE SEXIEST MAN ALIVE is the only one available in that format).  Good news: as of yesterday, I can finally answer that question with a "Yes!"
Tantor Audio has bought the audio rights to SOMETHING ABOUT YOU, and I'm thrilled that Cameron and Jack's story is going to be available as an audiobook! The narrator will be Karen White, who did a fantastic job with the audiobook for JTSMA, and they are aiming for a June 29 release date.  Personally, I can't wait to see how they're going to do that first chapter with all the "WhaMA-WhaMA-WhaMA's."  Too much fun.
For those of who'd like to hear Karen White in action, you can listen to a sample of her reading JUST THE SEXIEST MAN ALIVE here.