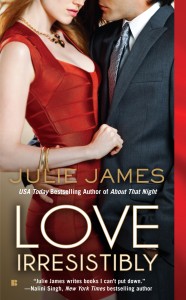 Note: the giveaway is closed. Winners will be announced shortly.
Well, look at that. I hit 5000 followers on Twitter. Very cool! How about if we celebrate with a giveaway? Say… five copies of my newest release, Love Irresistibly.
Let's make this super-easy. Five randomly-selected people who leave a comment below will win their choice of a signed paperback or a Kindle/Nook ebook. The giveaway is open internationally and will run until this Sunday, October 20, at 9pm CST. People seeing this on my Goodreads blog should click here to enter.
And if you're not already, you can follow me on Twitter at @juljames. I can also be found on: Facebook and Goodreads.