Please note: the giveaway is now closed. Winners will be announced shortly.
Only three weeks to the release of About That Night!  Which means it's time for. . . another giveaway!
As many of you know, About That Night is the third book in what I'm now calling the FBI/U.S. Attorney series.  The hero in About That Night, Kyle Rhodes, is a billionaire heir/network security specialist/ex-con.  Yep, you heard that right: he went to prison for crashing Twitter after his supermodel ex-girlfriend broke up with him via a tweet.  Kyle is first introduced in my previous book, A Lot Like Love, when his twin sister agrees to work with the FBI (as part of a sting operation) in exchange for Kyle's release from prison.
This week I'm giving away five copies of A Lot Like Love, and a $25 gift card to Barnes & Noble or Amazon (winner's choice).  For those of you who aren't familiar with A Lot Like Love, here's a short description: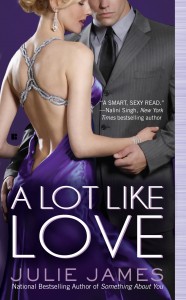 THE FBI WANTS HER COOPERATION.
As the daughter of a billionaire and the owner of the city's top wine store, Jordan Rhodes is invited to the most exclusive parties in Chicago. But there's only one party the FBI wants to crash: the charity fundraiser of a famous restaurateur, who also happens to launder money for the mob. In exchange for her brother's release from prison, Jordan is going to be there—with a date supplied by the Bureau.
AGENT MCCALL JUST WANTS HER.
As the top undercover agent in Chicago, Nick McCall has one rule: never get personal. This "date" with Jordan Rhodes is merely an assignment—one they're both determined to pull off even if they can't be together for five minutes before the sarcasm and sparks begin to fly. But when Nick's investigation is compromised, he and Jordan have no choice but to pretend they're a couple, and what starts out as a simple assignment begins to feel a lot like something more. . .
* * *
Now for the giveaway part: all you have to do to enter is leave a comment or question below. It's that easy.  One grand prize winner will receive a copy of A Lot Like Love and a $25 gift card to Amazon/Barnes & Noble. Four additional winners will receive a copy of A Lot Like Love.  Winners will be chosen at random, and will have the option of choosing either a signed paperback or a Kindle/Nook eBook.  Giveaway is open internationally and will run until this Friday, March 16th, at 9pm CST.
One more thing: those of you who are new to the FBI/US Attorney series should feel free to check out my new series page, which includes a series overview, the inspiration behind the series, and some fun profiles of the heroes.
And yet another thing (this is really it, I promise): some of you have probably heard that A Lot Like Love is a finalist in this year's DA BWAHA competition. (Yay!) The competition is a March Madness-style tournament of romance novels where you, the readers, pick the books that advance.  Anyone can vote, so if you liked A Lot Like Love, consider taking two seconds today to vote for it here.)  Voting goes until midnight CST, anyone can vote (international included), and there's no registration or email address required.
Okay, that's it.  Whew.  Now good luck to everyone who enters the giveaway!