Note: the giveaway is now closed. Winners will be announced shortly.
Many of you have been asking about my next book, It Happened One Wedding, and I'm thrilled to share some of the details. (Finally, I know.) I mentioned before that I wanted to do something a little different with this story–it's the first time my heroine and hero do not meet via their jobs. Instead, they're introduced via their personal lives.
Want to know more? I think many of you are going to be pleased when you see who the hero is. . .
Oh, and I love this cover, but brace yourselves, because it's a little different from my previous covers. Here you go.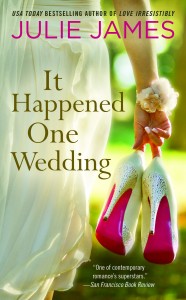 SHE KNOWS BETTER THAN TO SAY "I DO"
After a humiliating end to her engagement, investment banker Sidney Sinclair is done with commitment-phobic men. But when her sister winds up engaged after a whirlwind courtship, she's thrown in to close contact with exactly the kind of sexy playboy she wants to avoid—the gorgeous best man. She's stuck with him, for better or worse, until her sister walks down the aisle, but that doesn't mean she has to give in to his smooth advances, no matter how tempting they are…
BUT HE MAKES IT HARD TO SAY "I DON'T"
Special Agent Vaughn Roberts always gets his man on the job and his woman in bed. So Sidney's refusal to fall for his charms only makes him more determined to win over the cool and confident redhead. Only what starts out as a battle of wills ends up as a serious play for her heart. Because the one woman who refuses to be caught may be the only one Vaughn can't live without…
* * *
Look at those shoes! Now, in case any of you are wondering whether the direction we went with this cover means that the story will be different in tone from my others, don't worry. It Happened One Wedding is very much a "Julie James" contemporary romance. I really like my previous covers, but after the Love Irresistibly cover came out, my editor and I didn't think we'd ever be able to top that fantastic red dress. So, for this book, we were looking for something new–something that felt, perhaps, like a movie poster. And I have to say, I think the Berkley art department knocked it out of the park.
What else can I tell you about It Happened One Wedding? Well, it's part of the FBI/U.S. Attorney series, so you'll be seeing some familiar faces. And here's some behind-the-scenes info: when I was writing the previous book, Love Irresistibly, I was pretty convinced the next book would be about Ford, Brooke's best friend. But when I sat down to outline Ford's story, nothing happened.  Instead, it was Vaughn who kept intriguing me. I like that he's the guy in Love Irresistibly who keeps wondering why the heck everyone else is settling down, but I also saw some potential there. He's a bit of a diamond in the rough, and I figured he just needed the right woman to come along and polish him up. And I won't lie: it's fun writing FBI agent heroes, something I haven't done since A Lot Like Love.
One more thing: Berkley is moving my books out of the Sensation line and into their main Jove line which means–good news!– that my books will now come out a week earlier. So mark your calendars, because It Happened One Wedding will be out on March 25th.
And now for the giveaway part: You all know how I like to give away books, right? To celebrate the reveal of the cover  and blurb for It Happened One Wedding, I'm giving away five copies of Love Irresistibly, the book in which the hero, Special Agent Vaughn Roberts, first appeared on the Chicago FBI/U.S. Attorney scene. Winners can choose either a signed paperback or a Kindle, Nook, or Kobo ebook. The giveaway is open internationally, and will remain open until 9pm CST on Friday, August 9th.
All you have to do to enter is leave a comment below. (Those of you reading this on my Goodreads page should click here to leave a comment.) Good luck!