Note: the giveaway is now closed. Winners to be announced shortly.
Those of you following me on Twitter and Facebook know that I promised to reveal the title of my upcoming book today. I know many of you are eager to know who the hero is, and while the title won't tell you who the book is about, it'll give you a really good hint what the book is about.
One of the first things I'd told my editor when brainstorming ideas for this book was that I knew I didn't want the heroine and hero to meet through work. All six of my previous books have my lead characters meeting, somehow, via a work connection, so with this next book, I wanted to do something different. What is that "something different" you ask? Well, maybe the title will give you a clue:
IT HAPPENED ONE WEDDING
(Coming in April)
Big, huge, thanks to Elyssa Patrick for the title, which I love because it's a play on one of my favorite classic romantic comedies, It Happened One Night. To celebrate the title reveal, I'm giving away two signed copies of my current release, Love Irresistibly.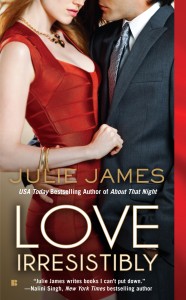 Which is appropriate–here comes another hint–since the hero in It Happened One Wedding appears in Love Irresistibly.
To enter the giveaway, all you have to do is leave a comment below. Two randomly-selected winners can choose between a signed paperback or a Kindle/Nook/Kobo ebook of Love Irresistibly. The giveaway is open internationally and will run until this Friday, June 28, at 9pm CST. Those of you reading this on Goodreads should click here to leave a comment at my blog.
Happy reading!