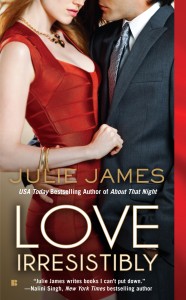 It's here!! Love Irresistibly hits bookstores and online retailers everywhere today! (Whoo-hoo!!)
The Washington Post calls Love Irresistibly "the best book yet" in my FBI/U.S. Attorney series. But now, finally, all of you get to be the judge! I know many of you have been looking forward to the tall, dark, handsome, and charming Cade Morgan's book for a long time.
If you haven't seen it yet, be sure to check out this video of me talking about Love Irresistibly, and what inspires me to write those smart and sassy heroines who have knack for attracting strong, sexy alpha men.
Last year, I opened up a discussion blog here at my website when About That Night came out, and since that was a big hit I'm thinking I'll do that again. Look for that tomorrow.
In the meantime, there are lots of funs things happening today to celebrate the release of Love Irresistibly:
For those of you in the Chicago area, tonight I'll be chatting with Jane Litte of Dear Author at Lady Jane's Salon in Naperville, IL. I'll be answering questions about Love Irresistibly and signing books, and one lucky attendee will win signed copies of all six of my books.
Check out this interview at the Happy Ever After USA Today blog, where I talk about, among other things, getting repeatedly crashed into by Julia Roberts.
Check out this interview and giveaway at Harlequin Junkie, where I talk about (among other things) the keys to writing a good love story and the five best things about being a writer. And I'm also giving away two copies of any book from my backlist. (Love Irresistibly not included.)
And for something unique and fun, check out this audio interview and giveaway over at the Audiogals site. You can listen as Lea from Audiogals chats with the awesome Karen White, who has narrated all my books. Karen talks about recording Love Irresistibly and my other books, including the soon-to-be-released Practice Makes Perfect. Plus, they're giving away three copies of the Love Irresistibly audiobook.
Whew! That's a lot going on today! It's like a Love Irresistibly party.  Hope you all enjoy Brooke and Cade's story!