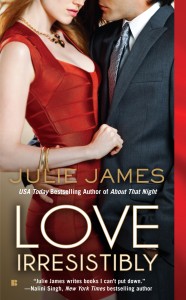 Last year, a reader asked whether there was any place where people who'd read my newest release could discuss the book, including spoilers. I thought that was a great idea, and the discussion blog was a hit. So, I thought I'd do that again this year, for Love Irresistibly. I've seen a lot of conversations about the book on Twitter and Facebook and thought people might enjoy the opportunity to chat with other readers. I'm also happy to answer questions about the book (I'll be in New York for the next two days for a reader event, but I'll try to respond as quickly as possible), but feel free to discuss amongst yourselves.
Be forewarned: any comments below may include spoilers.
I also wanted to thank all of you for the emails, tweets, Facebook posts, etc. I'm thrilled to hear you guys are enjoying Love Irresistibly!
P.S. To join the conversation, those of you reading this on Goodreads should click here.