**Please note: the giveaway is now closed. Winners will be announced shortly.
Less than three weeks to the release of Love Irresistibly! Which means it's time for. . . another giveaway!
As many of you know, Love Irresistibly is the fourth book in my FBI/U.S. Attorney series. (FYI, for those of you who aren't familiar, the books are a "series" in the sense that they are set in a shared world and some characters make appearances in later books. But I write each book as a standalone, so you should feel free to jump in wherever you like.)
For the past several weeks I've been giving away copies of the previous books in the series, so now we are up to my last release, About That Night.  About That Night features a billionaire heir/network security specialist/ex-con hero who went to prison for crashing Twitter. Yep, you read that right.  Here's a short description:
HE'S PLAYING GAMES.
Though Rylann Pierce tried to fight the sparks she felt for billionaire heir Kyle Rhodes the night they met, their sizzling chemistry was undeniable. But after being stood up on their first date, Rylann never expected to see him again. So when she finds herself face-to-face with Kyle in a courthouse nine years later, she's stunned. More troubling to the beautiful assistant U.S. attorney is that she's still wildly attracted to him.
BUT SHE'S MAKING THE RULES.
Just released from prison, Kyle Rhodes isn't thrilled to be the star witness in a high-profile criminal case—but when Rylann comes knocking at his door, he finds she may be the one lawyer he can't say no to. Still as gorgeous and sharp-tongued as ever, she lays down the law: she doesn't mix business with pleasure. But Kyle won't give up on something he wants—and what he wants is the one woman he's never forgotten. . .
* * *
And now for the giveaway part: all you have to do to enter is leave a comment below. It's that easy. (Note: those of you reading this on my Goodreads page should click here to leave a comment.) One grand prize winner will receive a copy of About That Night and a $25 gift card to Amazon/Barnes & Noble. Four additional winners will receive a copy of About That Night. Winners will be chosen at random, and will have the option of choosing either a signed paperback or a Kindle/Nook/Kobo ebook. Giveaway is open internationally and will run until this Monday, March 18, at 9pm CST.
Have you all seen Cade's hero profile? I've updated my series page to include a fun sneak-peak at the hero of Love Irresistibly. (Psst– there's even a photo!)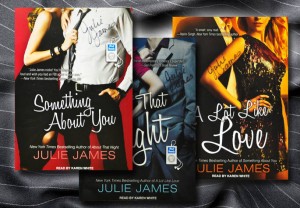 One last thing: Tantor Audio is currently hosting a giveaway: enter to win one of three signed sets of the FBI/U.S. Attorney series (books 1-3) in audio. Whether you're a huge audiobook fan, or new to audiobooks, this a great chance for you to check out the audiobooks for free! Enter that giveaway by clicking here. P.S. Here's a photo of the signed covers– I'll admit I had fun signing Jack and Kyle's chests. : )
Okay, that's it. Whew. Now good luck to everyone who enters the giveaway!