Well, audiobook fans, you asked. And I'm thrilled to announce that Tantor Audio has bought the rights to Practice Makes Perfect! That means all my books either are currently, or will soon be, available in audiobook format. I'll post the release date as soon as I have it.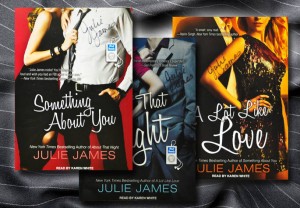 And in more fun audiobook news, Tantor Audio is currently hosting a Facebook giveaway: win one of three signed sets of the FBI/US Attorney series (books 1-3) in audio. Whether you're a huge audiobook fan, or new to audiobooks, you don't want to miss the wonderful Karen White narrating the books! Enter at: http://a.pgtb.me/Pw1f6p. Additional info about the giveaway can be found at Tantor's Facebook page. P.S. Here's a photos of the signed covers– I'll admit I had fun signing Jack and Kyle's chests. : )
For those of you interested in listening to an excerpt of the FBI/US Attorney audiobooks, you can find those on the sidebar of these pages:
The audiobook of Love Irresistibly will be released on April 2nd, and I hope to have an excerpt soon!