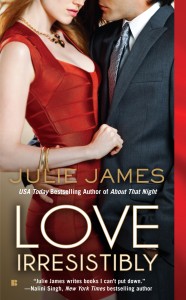 Note: the giveaway is now closed. Winners to be announced shortly.
As we continue our countdown to the April 2nd release of Love Irresistibly (whoo-hoo!), I thought we should celebrate with another giveaway. And I have a fun one for you this week, folks.
Eager to get your hands on a copy of Love Irresistibly? Here's your chance. I have two ARCs (Advance Review Copies) up for grabs this week.
More info about the book: Love Irresistibly is the fourth book in my FBI/US Attorney series. (FYI, for those of you who aren't familiar, the books are a "series" in the sense that they are set in a shared world and some characters make appearances in later books.  But I write each book as a standalone, so you should feel free to jump in wherever you like!)
Here's a brief description of Love Irresistibly:
HE'S USED TO GETTING WHAT HE WANTS. . .
A former football star and one of Chicago's top prosecutors, Assistant U.S. Attorney Cade Morgan will do anything to nail a corrupt state senator, which means he needs Brooke Parker's help. As general counsel for a restaurant company, she can get a bug to the senator's table at one of her five-star restaurants so the FBI can eavesdrop on him. All Cade has to do is convince Brooke to cooperate—and he's not afraid to use a little charm, or the power of his office, to do just that.
AND WHAT HE WANTS IS HER.
A savvy businesswoman, Brooke knows she needs to play ball with the U.S. Attorney's office—even if it means working with Cade. No doubt there's a sizzling attraction beneath all their sarcastic quips, but Brooke is determined to keep things casual. Cade agrees—until a surprising turn of events throws his life into turmoil, and he realizes that he wants more than just a good time from the one woman with whom he could fall terrifyingly, irresistibly in love . . .
* * *
Now for the giveaway part: all you have to do to enter is leave a comment below. It's that easy. (Note: those of you reading this on my Goodreads page should click HERE to leave a comment.) Two randomly-selected winners will receive an ARC of Love Irresistibly. Giveaway is open internationally and will run until this Sunday, February 3rd, at 9pm CST. Only one comment/entry will be counted per person.
**And don't miss out: There's another giveaway going on right now over at Goodreads that you don't want to miss! Twenty-five (25) copies of A LOT LIKE LOVE are up for grabs. You can enter by clicking on this link.

Good luck everyone, and remember to check back over the next several weeks for still more giveaways!
Want to stay current with my giveaway and book release news? You can follow me on Twitter, Facebook, and/or Goodreads.