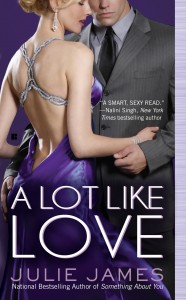 Hey all!  Wanted to let you know about an awesome giveaway. My publisher is offering up twenty-five (25) copies of A LOT LIKE LOVE over at Goodreads. So if you're curious about the FBI/US Attorney series, or if you like free books (and who doesn't like free books?), be sure to drop by Goodreads and check that out.
For your convenience, here's the link where you can enter the giveaway. Good luck!
And for those who might not be familiar, here's a brief description of A LOT LIKE LOVE, which–ahem–happens to be both a National Readers' Choice Award winner and winner of the All About Romance Readers' Poll for Best Contemporary Romance. (See how I slipped that in there?)
THE FBI WANTS HER COOPERATION.
As the daughter of a billionaire and the owner of the city's top wine store, Jordan Rhodes is invited to the most exclusive parties in Chicago. But there's only one party the FBI wants to crash: the charity fundraiser of a famous restaurateur, who also happens to launder money for the mob. In exchange for her brother's release from prison, Jordan is going to be there—with a date supplied by the Bureau.
AGENT MCCALL JUST WANTS HER.
As the top undercover agent in Chicago, Nick McCall has one rule: never get personal. This "date" with Jordan Rhodes is merely an assignment—one they're both determined to pull off even if they can't be together for five minutes before the sarcasm and sparks begin to fly. But when Nick's investigation is compromised, he and Jordan have no choice but to pretend they're a couple, and what starts out as a simple assignment begins to feel a lot like something more. . .
More info about A LOT LIKE LOVE, including an excerpt, can be found here.