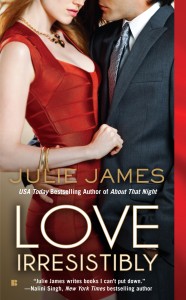 Please note: the giveaway is now closed. Winners to be announced shortly.
So you may have heard that I have a new book, Love Irresistibly, coming out on April 2nd. (Whoo-hoo!) I'll be honest, folks–I'm really excited. I had a great time writing Cade and Brooke's story, and I hope you enjoy it as well.
Love Irresistibly is the fourth book in my FBI/US Attorney series. (FYI, for those of you who aren't familiar, the books are a "series" in the sense that they are set in a shared world and some characters make appearances in later books.  But I write each book as a standalone, so you should feel free to jump in wherever you like!)
To celebrate the approaching release of Love Irresistibly, I'm planning to run a bunch of giveaways over the next several weeks, right here at this blog. (For you audiobook lovers, I think I'll also throw in some chances to win the series on audiobook.) So let's get started with the first giveaway, shall we?
This week I'm giving away five copies of Something About You, the first book in the FBI/US Attorney series, plus a $25 gift card to Barnes & Noble or Amazon (winner's choice).
For those of you who aren't familiar with Something About You, here's a short description: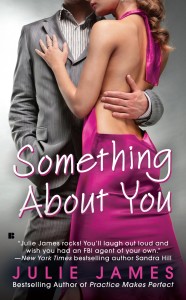 FATE HAS THROWN TWO SWORN ENEMIES…
Of all the hotel rooms rented by all the adulterous politicians in Chicago, female Assistant U.S. Attorney Cameron Lynde had to choose the one next to 1308, where some hot-and-heavy lovemaking ends in bloodshed. And of all the FBI agents in Illinois, it had to be Special Agent Jack Pallas who gets assigned to this high-profile homicide. The same Jack Pallas who still blames Cameron for a botched crackdown three years ago—and nearly ruining his career…
…INTO EACH OTHER'S ARMS
Work with Cameron Lynde? Are they kidding? Maybe, Jack thinks, this is some kind of welcome-back prank after his stint away from Chicago. But it's no joke: the pair is going to have to put their rocky past behind them and focus on the case at hand. That is, if they can cut back on the razor-sharp jibes—and smother the flame of their sizzling-hot sexual tension…
* * *
Now for the giveaway part: all you have to do to enter is leave a comment below. It's that easy. (Note: those of you reading this on my Goodreads page should click here to leave a comment.) One grand prize winner will receive a copy of Something About You and a $25 gift card to Amazon/Barnes & Noble. Four additional winners will receive a copy of Something About You. Winners will be chosen at random, and will have the option of choosing either a signed paperback or a Kindle/Nook/Kobo ebook. Giveaway is open internationally and will run until this Sunday, January 20th, at 9pm CST.
One last thing: if you haven't already, be sure to check out my SERIES PAGE, which has lots o' fun stuff for readers both familiar and unfamiliar with the books–including a series overview, the inspiration behind the series, and some tongue-in-cheek profiles of the heroes. (Trust me, you don't want to miss that part.)
Good luck to all who enter, and remember to check back over the next several weeks for more giveaways!