Okay, so if you haven't realized this about me already, I'm the worst about taking photos at these writers' conferences.  But I had an amazing time at the RT BookLovers convention, connecting with both readers and other authors, so I thought I'd share the little I have.
First, let's start with the good stuff.  Here's a great photo taken by Benita, a reader who dropped by my table at the book signing.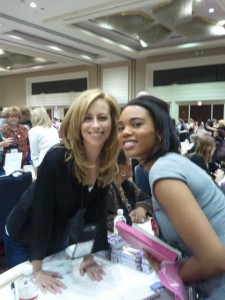 Next, I grabbed this picture off Twitter that was taken by Beth Kery, when a bunch of us went downtown for dinner.  That's Nalini Singh in the background there, getting ready to steal some of my frosting.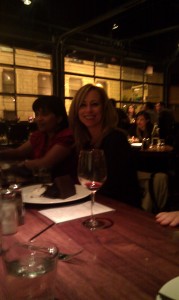 And now for the one photo that I took, the one time I actually remembered to pull out my phone and take a picture.  I think this speaks volumes about me: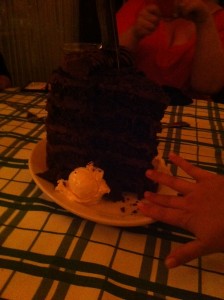 A piece of chocolate cake as big as my head.
Seriously, it was that huge.  That's Louisa Edwards's hand there, for scale.
So there you have it, the photo journal of my RT experience.  I met lots of awesome readers, hung out with super-cool readers, found out that About That Night made the NY Times and USA Today bestseller lists, and ate lots and lots of chocolate cake.  Oh, and then my dad stopped by the book signing as a surprise and told people coming up to my table that he's my dad and that I'm a "really nice person."  (Thanks, Dad!) Then he ran off to get a book signed by Sue Grafton.
All in all, a pretty great four days.
Edited to add: Yay! After posting this, another reader, Maria, emailed me the following two photos for my collection. For those of you who haven't been to an RT or RWA conference, the first photo gives you a glimpse of what one looks like.