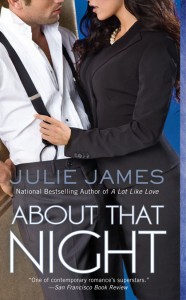 So here I am, at the RT BookLovers convention in Chicago.  Yesterday, after finishing up a workshop on sexual tension, I saw that my editor had called with the AMAZING news that About That Night made both the New York Times (#26 in ebook) and USA Today (#89) bestseller lists!!!!  I think I was speechless for a moment or two–a rare occasion, indeed–before the cheering began.  And then, while calling my husband, I may or may not have told a bunch of perfect strangers in the elevator that my book made the NYT and USA Today lists.  (Luckily, they cheered too, or that would've been really awkward.)
It goes without saying that this is all because of you guys, all you awesome readers who bought the book this past week.  For that I'm thrilled beyond words.  All the emails and tweets and Facebook comments you've sent about About That Night have been great–it's wonderful to hear that so many of you have enjoyed the book.  Yay for Smug Dimpled billionaire heir ex-cons!
The New York Times list hasn't posted yet, but here's the USA Today list for anyone who wants to check it out.
Thanks so much, everyone. I'm over the moon.