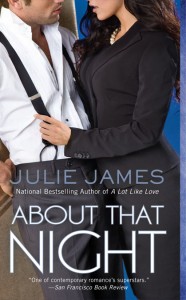 About That Night, the third book in my FBI/U.S. Attorney series, is now available. Whoo-hoo! I know many of you have been looking forward to this book, featuring the devilishly charming billionaire heir/ex-con Kyle Rhodes.
The reviews are pouring in and I'm hearing fantastic things.  In addition, I've learned that About That Night was nominated for RT BookReviews magazine's April Seal of Excellence Award! They had this to say about the book:
"About That Night by Julie James is a delightful contemporary tale about the assistant U.S. Attorney Rylann Pierce who must work with the "Twitter Terrorist", billionaire Kyle Rhodes. (Readers will remember Rhodes is the brother of the heroine of James' 2011's novel, A Lot Like Love.) As Kyle and Rylann strike sparks off each other, will the couple decide that the second time's the charm for their romantic relationship? Kyle steals the show as the character you won't forget, despite his history in jail, he remains carefree and fun loving — until he discovers that he doesn't want to go back to life without Rylann. With some signature laugh out loud James moments, this modern day love story is sure to please genre fans!"
Also, I did an interview with RT BookReviews magazine, where I talk about writing ABOUT THAT NIGHT, where I get my inspiration for dialogue, being a working mom, and all sorts of fun stuff. I think you guys will enjoy the interview–you can watch by clicking on the link below.
Interview with RT BookReviews magazine
I hope you enjoy Kyle and Rylann's story!