Please note: the giveaway is now closed.  Winner will be announced shortly.
Hurray! A LOT LIKE LOVE won its last matchup in the DA BWAHA tournament and has made it into the Elite Eight.  Once again, a huge thanks to all of you for voting, tweeting, spreading the word on Facebook, etc.  I owe it all to you. : )
Last round my book was up against Yours to Keep by Shannon Stacey. And let me tell you–that was a tough battle for me because I loved that book.  Fun and sexy, it's a must-read for anyone who enjoys contemporary romance.  All I'll say is: those Post-It notes.  Adorable.  (And if you don't know what I'm talking about, you should check out the book to find out!)
With that in mind, I'd like to add Yours to Keep to somebody's TBR pile by giving away a copy.  Here's more about the book: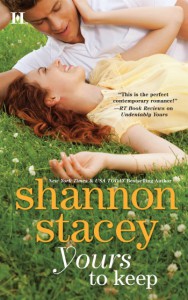 Sean Kowalski no sooner leaves the army than he's recruited by Emma Shaw to be her fake fiancé. Emma needs to produce a husband-to-be for her grandmother's upcoming visit, and, though Sean doesn't like the deception, he could use the landscaping job Emma's offering while he decides what to do with his civilian life. And, despite his attraction to Emma, there's no chance he'll fall for a woman with deep roots in a town he's not planning to call home.
Emma's not interested in a real relationship either; not with a man whose idea of home is wherever he drops his duffel bag. No matter how amazing his "pretend" kisses are…
* * *
To enter, all you have to do is leave a comment below. Winner can choose either a paperback copy or a Kindle, Nook, or Kobo eBook.  Giveaway is open internationally and will be open until 9pm CST tomorrow, March 24th.
More information about Shannon Stacey's books can be found at her website.