Please note: the giveaway is now closed.  Winner will be announced shortly.
Hey everyone!  As many of you know, A Lot Like Love advanced to the next round in DA BWAHA.  Yay!  Thank you, thank you, thank you to all of you who voted!
The one downside is that my book had been matched up against Shiloh Walker, who I think is just fantastic.  I met Shiloh at . . . hmm, I believe it was at one of Lori Foster's Reader/Author get togethers.  We've gotten to know each other via various writers' conferences, and have also done a book signing together in Chicago.  The first book I read by Shiloh was Fragile and let me tell you–I still recall how blown away I was by that book.  It's gritty.  And intense.  And just so . . . good.  I really enjoyed the sequel, as well.
So the book that A Lot Like Love had been up against was If You Hear Her and, shame on me, I haven't read it yet.  I blame the kids–they cut into far too much of my fun reading time. : ) In addition to adding the book to my TBR pile, I'd like to add it to one of yours.  With that in mind, I'm giving a way a copy of If You Hear Her.  Here's more about the book: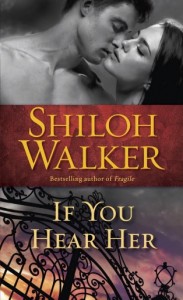 The scream Lena Riddle hears in the woods behind her house is enough to curdle her blood—she has no doubt that a woman is in real danger. Unfortunately, with no physical evidence, the local law officers in small-town Ash, Kentucky, dismiss her claim. But Lena knows what she heard—and it leaves her filled with fear and frustration.
Ezra King is on leave from the state police, but he can't escape the guilty memories that haunt his dreams. When he sees Lena, he is immediately drawn to her. He aches to touch her—to be touched by her—but is he too burdened by his tragic past to get close?
When Ezra hears her story of an unknown woman's screams, his instincts tell him that Lena's life is also at risk—and his desire to protect her is as fierce as his need to possess her.
First in a new romantic suspense trilogy
***
To enter, all you have to do is leave a comment below. Winner can choose either a paperback copy or a Kindle or Nook eBook.  Giveaway is open internationally and, since I'm so late in posting this tonight, will be open until 9pm CST tomorrow, March 18th.
More information about Shiloh Walker's books can be found at her website.