Please note: the giveaway is now closed. Winners will be posted shortly.
Okay, fine. Maybe not ever in the entire history of giveaways.  But it's definitely my biggest giveaway to date.  Because I'm just that excited. My upcoming book, About That Night, hits bookstores and online sellers just one week from today, on April 3rd!  Whoo-hoo!!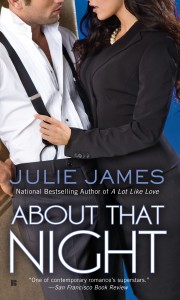 I know many of you have been looking forward to this book, featuring that devilish billionaire heir/ex-con/network security specialist Kyle Rhodes.  Reviews have started coming in, and people are saying great things about the book–which I'm thrilled to hear.
So this week, in my Biggest, Hugest Giveaway Ever, I'm giving away a grand prize of a Kindle Fire and a $25 gift card to Amazon to start loading it up with books.  Already have an e-reader? Don't want an e-reader?  No problem. If you win the grand prize and don't want the Kindle Fire, you can substitute that part of the prize for a $200 gift card to either Amazon or Barnes & Noble. That'll buy a lot of books.
In addition, I'm giving away five runner-up prizes of a signed copy of About That Night.  So what do you have to do to enter, you ask? It's simple: spread the word about About That Night. Here are the details:
1. Post somewhere letting people know about the upcoming release of About That Night. (To be clear–you need to post about the book release, not just that I'm hosting a giveaway.)  You can talk about the book on your blog, your website, on Facebook, Twitter (my Twitter name is @juljames, for those of you who want to get extra-super bonus points for including that). Don't have a blog? Don't tweet? No problem–you can post a comment on somebody else's blog, or even on a message board.
2. Then, come back here and comment below with a link to wherever you've posted your qualifying blog/post/tweet/ comment. This is important, as your comment below is your entry in the giveaway.
3. Please make sure your link works! If I can't confirm you that you've posted/commented/blogged/whatever-ed about the book, you won't be entered in the giveaway.
4. To qualify, your blog/comment/tweet must be new (meaning it must be posted starting March 27th).
5. For those of you who want to include details about About That Night in your post, a summary of the book can be found here and there's an excerpt here.
6. In order to give everyone who promotes my book an equal chance to win, I am limiting the giveaway to one entry per person.  But feel free to spread the word far and wide about the release of About That Night regardless. : )
7. The contest is open until 9pm CST on Sunday, April 1, 2012. Everyone who correctly enters will be in the running for both the grand prize and the runner-up prizes. The giveaway is open internationally, and authors are eligible to win as well. Winners will be chosen at random from among eligible entries.
Thanks, everyone, for helping me spread the word About That Night. And good luck to everyone who enters!