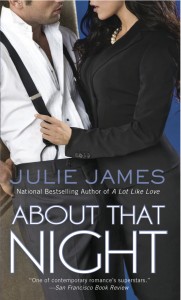 So yesterday started out not so great (8am, dental work, there was a drill involved–enough said), but got much better when I received word of two early reviews of About That Night.  Big hurray!
First, RT BookReviews selected About That Night as a Top Pick! and had this to say:
"James' latest novel is sweet and spicy.  The author paints a picture of missed opportunity and a reunion filled with fast quips and chemistry that heats up the pages.  Readers will love the back-and-forth between the main characters, but throughout the book the rest of the cast of characters and the story is a fantastic romantic comedy.  This one would be great on the big screen."
And then Night Owl Reviews made About That Night a Reviewer Top Pick and said:
"I am completely in love with this book. . .  [T]he book was so modern and in today's world it was easier to relate to the characters.  The book moved from the very first page to the very end of the book.  I honestly have to go out and buy the other books by this author.  I think I have found another favorite author to add to my collection."
Now that makes up for a little drilling, right?