Hi everyone!
See?  I haven't fallen off the face of the earth. I've just been busy, working away on About That Night.  So far, I'm very pleased with it.  I hope to share more about the book soon.
Speaking of books… in the spirit of summer, my book club decided that we wanted to read something "fun and light" for our next meeting.  I wanted to thank all of you who gave me great suggestions on Twitter and Facebook!  The book club has voted and this month we'll be reading Crocodile on the Sandbank by Elizabeth Peters.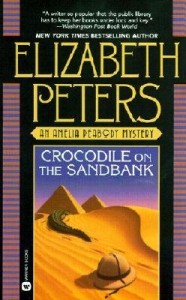 Has anyone read it?  If so, what did you think?  (No spoilers, please.)
Anyone have other recommendations for light and fun summer reads?  Please feel free to share!
Hope you are all enjoying the sunshine!