Friday giveaway! Let's do something different with this one. I have five *Kindle* copies of IT HAPPENED ONE WEDDING up for grabs. Already own a Kindle copy? You can forward the gift certificate to a friend and make their Memorial Day weekend!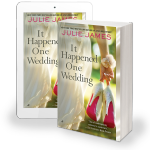 To enter, just leave a comment below. Giveaway will be open until 9pm CST today. Please note that the Kindle gift certificates will be coming from Amazon U.S. and that winners will be drawn from those who enter here and at my Facebook page. Good luck!
And while we're chatting… have you pre-ordered your copy of my June 2 release, SUDDENLY ONE SUMMER, yet? "A radiant winner" says Kirkus Reviews. The paperback is currently on sale at Amazon for only $6.47. No clue how long that will last, so get it while it's hot!