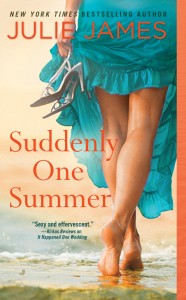 Hey all! I wanted to give you a heads up to some giveaways I'm running on Facebook:
I have two signed copies of IT HAPPENED ONE WEDDING up for grabs at my fan page.
I have two signed copies of SOMETHING ABOUT YOU up for grabs at my Readers Group. (You need to join the group to enter the giveaway.)
If you missed it, the Readers Group is something I started earlier this month. It's a place where you can chat with other readers of my books, get advance sneak-peaks, keep up with my latest news–and I'll be doing some giveaways there, too. It's a fun, great group and I hope you'll join us!
In other news, cover art is up for SUDDENLY ONE SUMMER, along with pre-order links, at:
Release date is June 2nd– so mark your calendars and pre-order your copies now!