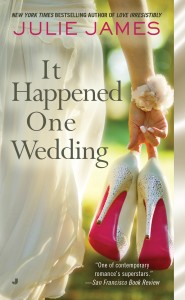 Giveaway! So, it's Little Girl's birthday and I'm feeling sentimental. Four years ago, I went to the hospital to be induced (because she was perfectly content to stay in there forever, apparently), and it was right about this time we figured out my epidural wasn't working. 😯 On the upside, my awesome OB did impressions of Will Ferrell to distract me while I was pushing.
Anyone else have a funny labor/delivery story? Three people who leave a comment either below (or at the identical post at my Facebook page) will win a KINDLE copy of IT HAPPENED ONE WEDDING. (The comment can be anything–doesn't have to be a labor/delivery story.) Giveaway will remain open until 9pm CST on Tuesday, October 21. **Please note that the gift certificates for the Kindle copies of the book will be sent from Amazon U.S.
P.S. Those of you seeing this post on Goodreads should click here to leave a comment at my blog to enter, or here to leave a comment at my Facebook page to enter.
RULES
Must be 18 years or older to participate.
Entrants can leave a comment either at this Facebook post or at the giveaway post at my blog.
Winners will be notified on this site and on my Facebook page.