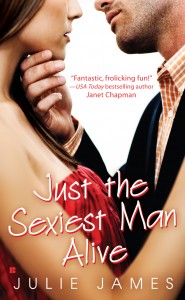 Hollywood's biggest movie star has just met his match.
"Witty banter and amazing chemistry … bring this delightful story to life"—Chicago Sun-Times
Fantastic news! Berkley has decided to drop the price on the Just the Sexiest Man Alive ebook to $1.99. So if you haven't read JTSMA, now's your chance to pick it up! Or, gift it to a friend who perhaps needs a little Jason Andrews in her life. (Don't we all?)
The sale will only last one week, so be sure to pick up your copy while it's hot (and cheap)!