Hi everyone,
Something About You is only $1.99 in ebook! This is a limited-time price drop, so I wanted to be sure to spread the word. Get the sexy and scowling Special Agent Jack Pallas while he's hot. : )
Here are the details: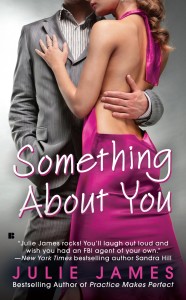 Available at: Kindle, Nook, iTunes
FATE HAS THROWN TWO SWORN ENEMIES…
Of all the hotel rooms rented by all the adulterous politicians in Chicago, female Assistant U.S. Attorney Cameron Lynde had to choose the one next to 1308, where some hot-and-heavy lovemaking ends in bloodshed. And of all the FBI agents in Illinois, it had to be Special Agent Jack Pallas who gets assigned to this high-profile homicide. The same Jack Pallas who still blames Cameron for a botched crackdown three years ago—and nearly ruining his career…
…INTO EACH OTHER'S ARMS
Work with Cameron Lynde? Are they kidding? Maybe, Jack thinks, this is some kind of welcome-back prank after his stint away from Chicago. But it's no joke: the pair is going to have to put their rocky past behind them and focus on the case at hand. That is, if they can cut back on the razor-sharp jibes—and smother the flame of their sizzling-hot sexual tension…
* * *
"Something About You is a perfect storm of awesome. From first impressions to the last page, it's worth shaking your tail feather over . . . It crackles, it's funny, it makes you laugh, and it isn't ever fake or cliche or completely unrealistic. . . . This is a contemporary romance well worth savoring, and laughing over, and reading all over again." —Smart Bitches, Trashy Books

"An addictively readable combination of sharp humor [and] sizzlingly sexy romance." —The Chicago Tribune
Over 4500 five-star ratings on Goodreads!
Happy reading!