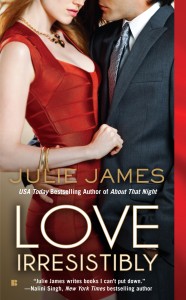 Please note: the giveaway is closed. Winners will be announced shortly.
Well, the weather outside may be frightful, but I'm in a good mood anyway because: (A) I'm done with the revisions to my upcoming book, It Happened One Wedding, and (B) I'm finally starting to kick the Cold From Hell. And since it's the season for giving, I thought we should celebrate with a giveaway!
I have five copies of my current release, Love Irresistibly, up for grabs. All you have to do to enter is leave a comment below. Five randomly-selected commenters will win their choice of a signed paperback or a Kindle/Nook ebook. The giveaway is open internationally and will run until this Sunday, December 22, at 10pm CST. (Note: those of you seeing this on my Goodreads blog should click here to enter.)
And here's a fun thing: I've posted the first chapter of It Happened One Wedding. Be sure to check that out to get a flavor of what you can expect from my newest hero and heroine, Special Agent Vaughn Roberts and Sidney Sinclair.
There will be lots of giveaways and fun stuff happening in the New Year–especially as we gear up for the May 6 release of the new book. To stay posted on everything, be sure to follow me on Twitter and Facebook. You can also find me on Goodreads.
Happy holidays, everyone! Good luck in the giveaway, and enjoy the excerpt!
P.S. Pre-order links are now available for It Happened One Wedding:
Kindle (currently on-sale for $5.99)