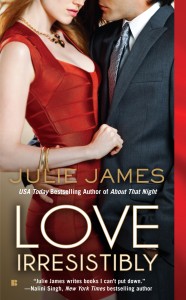 Note: the giveaway is closed. Winners will be announced shortly.
So, it's my birthday today. (Yay!) And while I'm not saying how many candles will be on the double chocolate cake Mr. James undoubtedly is bringing home today (hint, hint, sweetie), I'm in the mood to celebrate. How about a giveaway? I have three Kindle copies of my newest release, Love Irresistibly, up for grabs today. Already own a Kindle copy? Great! If you win, you can forward the e-gift card to someone else and make his or her day. : )
The giveaway is open to anyone who wants a chance to win a Kindle copy of Love Irresistibly that I will purchase from Amazon U.S. and forward to each winner. (Caveat: I'm not sure how that works with international readers, but you're certainly welcome to join in!)
Giveaway will be open until 9pm CST today, November 5th. All you have to do to enter is leave a comment below. (People reading this on my Goodreads blog should click here to enter.)
Good luck!
P.S. If you haven't heard, tomorrow my newsletter goes out with an exclusive excerpt–the first chapter of my upcoming release, It Happened One Wedding. You still have time to subscribe here.