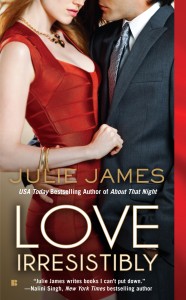 Last week, Amazon announced their picks for the Best Romances of 2013–and Love Irresistibly was on the list! Whoo-hoo! I'm currently in my writing hole, working on the revisions to It Happened One Wedding, but I figured I'd pop my head out for a few minutes to celebrate. And what do we do around here when we celebrate? Give away books!
Since we're talking about Amazon, I have three Kindle copies of Love Irresistibly up for grabs. Already own a Kindle copy? Great! If you win, you can forward the e-gift card to someone else and make his or her day.
The giveaway is open to anyone who wants a chance to win a Kindle copy of Love Irresistibly that I will purchase from Amazon U.S. and forward to each winner. (Caveat: I'm not sure how that works with international readers, but you're certainly welcome to join in!)
Giveaway will be open until 9pm CST Friday, November 15th. All you have to do to enter is leave a comment below. (People reading this on my Goodreads blog should click here to enter.)
Good luck!
P.S. In the past few days, there's been a bunch of new "likes" on my Facebook page and new people following me on Twitter. I'm so glad you're all finding me there! Those of you haven't already, who'd like to keep up with my latest news, giveaway info, and various random musings, chit-chat, and anecdotes, can follow me at: