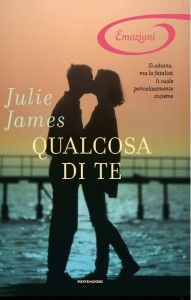 Earlier this month, my Italian publisher released the translated version of Something About You (QUALCOSA DI TE). Check out the pretty cover!
I remember now that we had to change Jack's last name from "Pallas" to "Dallas," because "Pallas" apparently means something bawdy in Italian. Oops. : )
Something About You (QUALCOSA DI TE) currently is #48 in all Kindle at Amazon Italy. And I also just learned that my first two books, Just the Sexiest Man Alive (DELIZIOSA SFIDA) and Practice Makes Perfect (QUESTIONE DI PRATICA), are the #2 and #4 ebook bestsellers of all time from my Italian publisher. (Full list here.)
Fantastico!