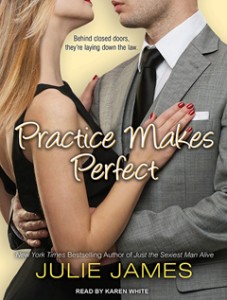 Hey everyone! I'm back from a lovely, three-day Memorial Day weekend with the family and thought I'd share some various bits of fun news:
First, I'm thrilled that the PRACTICE MAKES PERFECT audiobook is now available! (And currently 20% off.) I can't wait to hear narrator Karen White reading that broken heel/courtroom scene. : ) You can listen to an excerpt from the book at the Tantor Audio website.
Second, during the RT Convention, I taped a blog chat with Sara from the Harlequin Junkie blog and Sasha from Caribbean Accent Book Reviews. That 30 minute chat is now available at Blog Talk Radio, and anyone can listen–no sign in or registration required. We had a great time talking about my books, the development of the FBI/U.S. Attorney series, my favorite hero, how I came to be a romance writer, my book covers . . . and I even talk a little about my next book. (Just a smidge.)
Also, I've updated my International Editions page to reflect the newest upcoming foreign translations of my books. Love Irresistibly will be translated into French and Thai (and I suspect more languages to come)–in fact, the entire FBI/U.S. Attorney series is being translated into Thai. Also, Just the Sexiest Man Alive (Deliziosa Sfida) will be released in hardcover in Italian. (The book is already available in paperback and e-book.) Finally, I'm thrilled to have my first book translated into Turkish–Something About You.
And, on a personal note, it's summer gardening day here at Casa James. We'll call this one the "before" shot. I'll post (hopefully) when I have an "after." : )