**Please note: the giveaway is closed. Winner will be announced shortly.
I've mentioned before that I'm a big fan of Beth Kery's writing–emotional, angst-y, scorching-hot contemporary romances with very sexy alpha male heroes. So I'm thrilled to share an excerpt from Beth's upcoming release, Exposed to You, which will be available on November 6th. I have to say–I've been excited to read this book for ages. The hero, Everett, has a small part in another of Beth's books, Addicted to You, and let's just say… he intrigued me. Very much so. (Ahem–that's code for pestering Beth repeatedly with, "When is Everett going to get his own book???")
In addition to giving us this sneak-preview of her upcoming release, Beth is giving away a copy of the book to one lucky winner who leaves a comment below. (Note: an international winner will receive a print copy of the book; U.S. winner can chose either print OR any gift-able ebook, i.e. Kindle, Nook, iTunes or Kobo.) Giveaway will remain open until 9pm CST tomorrow, October 31.
Find out more about Beth's books at her website.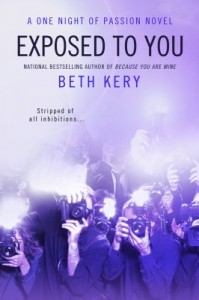 Losing control is just the beginning…
What would you do if the sexiest man in the world was bent on bringing you unbearable pleasure again and again?  Joy Hightower wasn't sure she could survive the experience…or live without it.
It's not often you're hired to paint a body tattoo—and what a body—on a total stranger at a Hollywood film set. A reserved and careful art teacher, Joy would never forget it. In a rare fit of raw desire she gave herself completely, knowing she'd never see him again, or ever repeat such a shameless, naked impulse.
 Little did she know, the man with whom she shared that lightning bolt of lust was star Everett Hughes. For Everett, women and sex came as easily as fame. But how could he hope to convince the guarded Joy that beneath the hard body and sexy façade of celebrity was a real man who wanted only one, real woman?
In the heat of an intoxicating affair, Everett endeavors to break down her barriers, gain her trust, and expose himself as the real deal. But can Joy do the same, and reveal to him the vulnerable woman who longs to be loved, wanted, and desired forever?
Excerpt from Exposed to You
She lifted the brush to his skin and began to paint. It was a little like working while a ravenous lion raced toward you in the periphery of your vision. She was acutely aware of the power in him, the incipient energy, like a giant spring that was being held down tight with effort. She worked steadily for the next half hour or so in the area of lower abdomen, creating the impossible–a flare of fire in water.
The realization hit her as she moved to the lower left quadrant of her design that she should have told him he could release the garment until she began to work in that area again. He'd kept his hands on the sides of the brief the whole time, however, exposing that strip of sensitive skin. Something about his pose excited her for some reason. It was as if he was frozen in the moment of offering himself to her…
…giving her a taste.
Her cheeks burned at the uncontrollable thought. She leaned away from him, feeling the loss of his subtle, radiant body heat on her cheeks and lips. She exchanged her paints and went back to work.
What was wrong with her? She'd never had this reaction before while she'd been working. Her skin felt flushed and prickly with awareness. There seemed to be some strange, inexplicable connection between where her paintbrush stroked his taut skin and her clit.
Why did she want to hold onto that brilliant flare of lust that the stranger's fierce eyes and hard cock promised? Maybe because you were told today that life and a future aren't a certainty, that both of those things were as ephemeral, as difficult to hold onto as an unexpected lightning strike of desire?
Joy didn't want to let go. She wanted…no, she needed to hang on.
The air around them seemed to have taken on a weight. She forced her lungs to move as she exchanged brushes and reached for a paint she'd deposited at the far end of the table. When she touched him with the wet tip just below his hipbone, his taut abdomen muscle twitched. She glanced up and saw a small smile on his mouth.
"It's colder than the other ones," he said.
"I'm sorry. The paint was sitting right in front of the air conditioner."
"It's okay."
His mouth moved, but no sound came from his throat. Some instinct inside her told her this man didn't typically become speechless.
She felt a surge of liquid heat at her sex.
She swallowed with difficulty and resumed painting, the feeling of moving in a dream only amplifying. How long would this surreal sensation last? When would the reality of her diagnosis of cancer really set in? Her grim future seemed impossible to grasp as she sat there, flushed with arousal, painting a brilliant tattoo on a beautiful, virile male she'd never seen before that moment, and would probably never see again.
"It's finished," she murmured minutes later, as she placed the solvent that set the paint on the table. From the corner of her vision, she saw that he didn't move his hands, keeping his briefs lowered. The fullness behind the seaweed design hadn't dissipated during the past forty-five minutes.
"Joy."
She glanced up slowly, both hesitant and anticipatory at once at the sound of his hoarse voice.
"I hope you don't think I'm a complete jackass for saying this, but that had to be the most erotic thing I've experienced since Peggy Barton let me touch her breasts when I was fourteen years old."
She just stared at him in amazement for a second before she laughed. The strangling sexual tension fractured slightly, letting her breathe. He smiled, full-out and brilliant.
Her laughter ceased.
Oh my God, she thought, stunned. Her sunburst tattoo would be considered dim next to that smile.
*****
RT Book Reviews Top Pick: "With the wealth of erotic stories popping up everywhere, Kery dethrones them all with her latest — a real eye-opener. This well-written story is original, refreshing and hot enough to generate third-degree burns."
Order for Release November 6, 2012