Please note: the giveaway is closed. Winners to be announced shortly.
About time, right?
I finally have the cover blurb for Love Irresistibly, and I'm thrilled to tell you more about the book. As many of you know, Love Irresistibly is part of my FBI/US Attorney series and will be available April 2nd.
Now, lots of you have asked who the hero of Love Irresistibly is . . . . So without further ado, I thought I'd share a photo of a bottle of wine Mr. James gave me on the day my editor accepted the proposal for the book.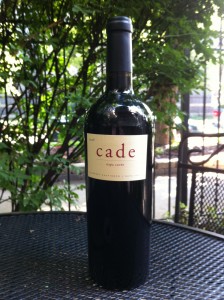 You probably remember Assistant U.S. Attorney Cade Morgan as Rylann's co-worker/friend in About That Night. I have to say, I'm really excited about his story. (Although I may be a tad biased.)  And I've got the perfect heroine for him–even if they don't see it that way at first. (Ha.)  Here are the details:
HE'S USED TO GETTING WHAT HE WANTS…
A former football star and one of Chicago's top prosecutors, Assistant U.S. Attorney Cade Morgan will do anything to nail a corrupt state senator, which means he needs Brooke Parker's help. As general counsel for a restaurant company, she can get a bug to the senator's table at one of her five-star restaurants so the FBI can eavesdrop on him. All Cade has to do is convince Brooke to cooperate—and he's not afraid to use a little charm, or the power of his office, to do just that.
AND WHAT HE WANTS IS HER.
A savvy businesswoman, Brooke knows she needs to play ball with the U.S. Attorney's office—even if it means working with Cade. No doubt there's a sizzling attraction beneath all their sarcastic quips, but Brooke is determined to keep things casual. Cade agrees—until a surprising turn of events throws his life into turmoil, and he realizes that he wants more than just a good time from the one woman with whom he could fall terrifyingly, irresistibly in love . . .
* * *
Back when I started writing Love Irresistibly, I stumbled across a photo that looked exactly how I pictured Cade. So if you'd like to be–ahem–inspired by the same visual as me, here you go:
Want to read a little bit more? How about a short excerpt from the book? Caveat: this is an unedited excerpt. As in the my-editor-hasn't-even-seen-it kind of unedited.  But I wanted to share a little more about the book.  Some of you may even recognize a familiar face in this scene. . .
Wholly, completely unedited excerpt from Love Irresistibly:
"Do you have some sort of court order to do this?" Brooke asked Cade.
"No."  Seated across the desk from her, flanked by the two FBI agents, he appeared unconcerned with such pesky details.  "But I can get one, if necessary."
From his self-assured tone, Brooke had a feeling that Assistant U.S. Attorney Cade Morgan was a man who was used to getting his way.  He certainly looked the part, with his tall, athletic build, angular jaw, dark brown hair, and cobalt blue eyes. He was remarkably good-looking—she would have to be a fool not to notice that—and she had no doubt that this played very well for him both inside and outside the courtroom.
"You probably could get an emergency judge to grant you an order allowing you plant a few bugs in the restaurant," she conceded.  "But you would still need someone on the inside to make sure your target sits at the right table."
"It would be very difficult for us to pull this off without your help."
At least he could acknowledge that much.  "Before I'd even consider agreeing to this, I need to know who the target is and what that person or persons is being investigated for."
Cade shook his head. "I'm afraid the nature of the investigation is confidential.  As for the identity of the person or persons of interest, after we have your agreement to cooperate, we'll provide you with that information at the appropriate time so that you know who to seat at the bugged table."
For Brooke, however, this point was not up for debate.  "I have a responsibility to protect Sterling's interests, Mr. Morgan, and that includes the safety of its employees and customers.  For all I know, this so-called 'person of interest' is an organized crime boss, a drug kingpin, or some other sort of dangerous criminal.  What if these two men discover that the table is bugged?  What if they identify Agent Huxley and his fake date as undercover agents and pull out guns and start shooting people?  Can you imagine the liability I'd be exposing the company to if someone got hurt and I'd had advance notice that there was a potentially dangerous sting operation going down in one of our restaurants?"
Cade considered this point.  "I can't reveal the nature of our investigation," he said finally.  "But I can assure you that neither of the two men who will be at Sogna on Sunday night are considered dangerous.  Nobody's pulling out guns and starting a shoot-out in the middle of your restaurant.  This isn't the O.K. Corral."
"I'd still like the names."
His blue eyes held hers boldly. "You drive a hard bargain, Ms. Parker."
"I wouldn't be doing my job if I didn't."
"Hmm."  He stretched out in the chair, looking effortlessly handsome and every bit the successful trial lawyer in his tailored gray pinstripe suit.  "Now, normally, this would be the point when I'd have to give you the tough-guy speech about how, if you were to reveal to anyone the confidential nature of the information I'm about to give you, you could be charged with obstruction of justice and face a possible felony conviction and imprisonment." He flashed her a dashing grin. "Luckily, though, since you're a lawyer and obviously know that already, we can skip over the tough-guy stuff.  Which is nice, because that part of the conversation can get really awkward."
Maybe it was the fact that Brooke, admittedly, was having a bad day.  She'd been dumped by the Hot OB, had just spent three hours on the phone haggling with the Staples Center lawyers over every tiny, miniscule part of their hospitality deal, and had done it all on two measly bites of a chicken taco and a melted strawberry-mango smoothie.  She was tired, hungry, and had, up until ten minutes ago, been looking forward to the first weekend in a long time where she did not have to work.  So, yes—she was, perhaps, feeling extra-cranky because of circumstances that had nothing to do with anyone sitting in that office right then.
But Cade Morgan was seriously beginning to piss her off.
He'd come here, to her office, seemingly to ask for her help.  Now he was threatening her with obstruction of justice charges—and most annoyingly, he was doing it with a smile.
So she returned the favor.  "That is nice, Mr. Morgan.  Because in response to your tough-guy speech, I, in turn, would've had to give you my tough-girl speech, about where, exactly, federal prosecutors who come to my office looking for assistance can stick their obstruction of justice threats."  She smiled ever-so-charmingly. "So I'm glad we were able to sidestep that whole ugly business. Whew."
Although her attention was focused on Cade, out of the corner of her eye, Brooke could see Agents Huxley and Roberts looking at the wall and ceiling, seemingly trying to hide their smiles.
Cade looked momentarily caught off guard, the first time since he'd waltzed into her office, then his eyes flashed with something else entirely.  Amusement, perhaps.
That annoyed her even more.
 * * *
But there's more! To celebrate the reveal of the cover blurb for Love Irresistibly, I'm giving away five copies of About That Night, the book in which Cade first appeared on the Chicago FBI/US Attorney scene. Winners can choose either a signed paperback or a Kindle, Nook, or Kobo ebook.  The giveaway is open internationally, and will remain open until 9pm CST on Wednesday, August 22nd.
All you have to do to enter is leave a comment below. Good luck!
Preorder Love Irresistibly at: Amazon (paperback), Kindle, BAM, or Powell's.  Will be available at other retailers soon–they just don't have the preorder links up yet. : )