For all you audiobook fans, I thought I'd let you know that the audiobook for A Lot Like Love is now available. Yay! I'm thrilled that the book is narrated by Karen White, who also did the audiobooks for Just the Sexiest Man Alive and Something About You.
Check out the new cover art for the audiobook: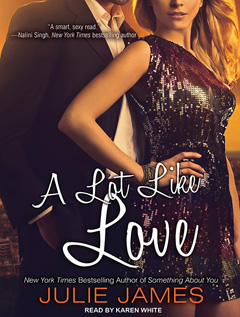 Want to learn (and hear) more? Here's a clip: A LOT LIKE LOVE audio clip
The audiobook is available from Tantor Audio, and can also be purchased at audible.com.
If you do check it out, feel free to leave a comment about A Lot Like Love or either of the other two audiobooks. I'd love to hear what you think.
And as a heads up, the audiobook for About That Night will be available September 17th…
Happy listening!