Please note: the giveaway is closed.  Winner will be announced shortly.
We did it, Team Love!!  A LOT LIKE LOVE advanced to the next round in DA BWAHA.  Hurray!  Big, huge thanks to all of you who voted.
Last round my book was up against Sweet As Sin by Inez Kelley.  And I have to admit: I've been thinking that I need to pick up this book for awhile.  First, there's that fabulous cover.  But more important, I've heard several people say that Sweet As Sin was one of their favorite contemporary romances of 2011.  So I've now added it to my TBR pile (darn DA BWAHA is just murder on the TBR pile), and now I'd like to add it to one of yours.  With that in mind, today I'm giving away a copy of Sweet As Sin.  Here's more about the book: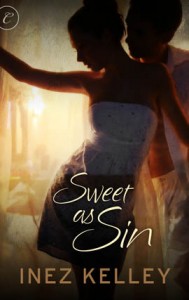 She was made for sin. Sin was something he knew intimately.
Bestselling YA author John Murphy is the acclaimed Master of Monsters. But when the door creaks shut, the monsters master him. His haunted past has destined him to hell, but he won't let that get in the way of enjoying his present or his delicious new neighbor. Enthralled by her, his secrets begin to unravel and the pages of his latest manuscript are written by his deepest fears…and in blood.
Pastry chef owner of The Sugar Shack, Livvy Andrews is as sinfully sweet as the confections she makes and just as irresistible. Her hidden passions erupt when a spicy new neighbor moves in next door and she is powerless against the lure of a man familiar with the erotic delicacies of life. She realizes there are more layers to him than she imagined, each one a delicious or frightening discovery. As lust turns to love, Livvy will master the monsters John keeps in the dark— but at what price?
* * *
To enter, all you have to do is leave a comment below. Please note: Sweet As Sin is available only in eBook format.  Winner can choose either a Kindle or Nook eBook. Giveaway is open internationally and will be open until 10pm CST today, March 19th.
More information about Inez Kelley's books can be found at her website.