Please note: the giveaway is now closed.  Winner will be announced shortly.
If you haven't heard already, A LOT LIKE LOVE made it into the Final Four of the DA BWAHA tournament!  Once again, big thanks to all of you–I'd been offline for much of the day yesterday with my son's fifth birthday party, (which was chaos) and I know many of you were out there spreading the word about voting in my absence.  You guys are all so awesome. Truly.
Yesterday my book was up against Bad Boyfriend by K.A. Mitchell.  I haven't had the pleasure of reading any of K.A. Mitchell's books (yet), but that's what DA BWAHA is all about–discovering new authors.  (Well, that and the trash talking.)  Sarah F. at Dear Author did a fantastic review of Bad Boyfriend, which you can read here, and today I'd love to add it to one of your TBR piles.  Here's some more about the book: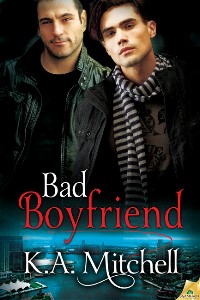 Sometimes it's good to be bad. Real good…
Bad in Baltimore, Book 2
After Eli Wright came out, his parents threw him out. In the five years since, he's made his own way, lived by his own rules, determined to never change himself—not for anyone. He's not against finding Mr. Right, but Mr. Right Now will do just fine.
Quinn Maloney's reward for ten years of faithfully keeping his closeted boyfriend's secrets? A hell of a wake-up call to go with his morning coffee. Not only did Peter have affairs, he went straight to marry his pregnant girlfriend—and Quinn was to never reveal their history.
With the baby's baptism looming and Quinn expected to put on a polite front, he decides he's had enough of playing the peacekeeper. One wink from a much younger, eyeliner-wearing guy in a bar, and Quinn's found a perfectly outrageous date for the occasion.
The date goes better than he ever imagined. And so much worse, as Eli convinces everyone they're madly in love. That wasn't part of the plan, but the more Quinn learns about the man behind the makeup, the more he wishes it was true.
***
To enter, all you have to do is leave a comment below.  Please note: Bad Boyfriend is available only in digital format.  Winner can choose either a Kindle, Nook, or Kobo eBook. Giveaway is open internationally and will be open until 10pm CST today, March 26th.
More information about K.A. Mitchell's books can be found at her website.