**Note: the giveaway is closed. Winners announced in comment #74 below.
I'm thrilled to welcome author Pamela Clare to the blog today!
I first became curious about Pamela Clare's books after reading the great reviews of her 2010 release, Naked Edge. When I saw the book named as one of the 64 finalists in the DABWAHA competition, I realized I'd never picked it up–and quickly rectified that situation.  I finished Naked Edge a couple of weeks ago and loved it!  My six month-old daughter had a double ear infection that week and both of us were getting noooo sleep, yet I still stayed up until 1:30 to finish it.
Pamela's newest I-Team release, Breaking Point, hit bookstores yesterday, and she's here to tell us more about the book.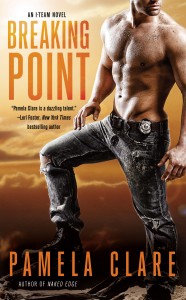 Before I turn things over to Pamela, I must confess that I've been ridiculously excited about this book ever since reading the below excerpt.  Many of you know that I'm a huge fan of 24, and the Breaking Point excerpt strikes me as very Jack Bauer-esque + romance.  In my book, that = sold.  I picked up my copy of Breaking Point yesterday and cannot wait to dig in.
So without further ado, here's my Q&A with Pamela:
1. When did you first realize you wanted to write, and how did you get started?
I was 10 years old when I first realized I wanted to write books. I remember it very distinctly. I went to a nearby branch of the public library (which just happens to sit within view of my office at the newspaper) and read Misty of Chincoteague. Something really magical happened while I was reading that I hadn't experienced before. The world disappeared, and I felt like I had experienced the adventure right along with the protagonists. I decided right then that I wanted to write books, and I started reading everything I could. I also wrote some exceptionally terrible poetry at that time.
2. What is it about writing romance that appeals to you?
I think romance novels deal with the most important subjects in our lives — human relationships, family, sex. Writing romance also enables me to put together a world that is focused on a woman's experiences, desires and dreams. As a journalist, I've focused on addressing primarily women's issues. Writing romance allows me to do the same thing, but through a fiction format. Plus, I love happy endings.
3. What do you do on those writing days when you're stressed, worn out, or distracted?
I wish I had a healthy answer for this one! Instead, I am an example of what not to do. I used to hike or go for long walks while listening to music. But with two more-than-full-time jobs and a recent spinal surgery to correct spinal compression from a broken neck I sustained as a kid, I often feel too stressed to take time to relax. Is that stupid or what? It's really become a vicious cycle. I live right next to the Rocky Mountains, so the opportunity for fresh air is everywhere. But lately I just feel I don't have time. Unfortunately, I think it's impacting my writing.
4. What can you tell us about your current release?
Breaking Point is the fifth book in my I-Team series. I'm very excited about it. It got a starred review from Publishers Weekly, which thrilled me. The I-Team books focus on a group of hardcore investigative journalists—mostly women—who end up in dangerous situations because of their work. All of the stories have their genesis in something I've worked on as an investigative reporter, and though they stand alone, there's payoff for people who read them in order. The relationships between the heroes and heroines are a big ongoing part of the series.
Here's the blurb from the back of the Breaking Point:
While investigating border violence in Ciudad Juárez, Mexico, Denver journalist Natalie Benoit is caught in a bloody ambush and taken captive. Alone in the hands of ruthless killers, she will need every ounce of courage she possesses to survive.
Betrayed by another operative, Deputy U.S. Marshal Zach McBride, a former Navy SEAL, has endured a week of torture and interrogation at the hands of a bloodthirsty Mexican drug cartel. Ready to give his life if he must, he remains unbroken—until he hears the cries of an American woman.
Although Natalie is only a voice in the darkness of their shared prison, her plight brings renewed strength to Zach's battered body. With her help, he overpowers their captors, and they flee through the desert toward the border, the attraction between them flaring hotter than the Sonoran sun.
But past loss and tragedy leave both of them reluctant to follow their hearts, even when the passion between them reaches its breaking point. Faced with feelings neither expected, they fight to stay ahead of the danger that hunts them as forces more powerful than they can imagine conspire to destroy them both…
5. Can you share with us brief excerpt from your next release?
Zach hung limply from the manacles, unable even to hold up his head.  His shoulders ached from supporting his dead weight, manacles biting into his bloody wrists.  But none of that could compare to the residual pain of that last electro-shock.  His muscles seized in sharp spasms, his heart slamming erratically in his chest, his body shaking, his mouth filled with the coppery taste of his own blood.

Don't give in to the pain.  Adjust for it.

He willed himself to relax, slowed his breathing.

Cold water splashed over his chest, making him jerk.  It wasn't to revive him, he knew, but to make his skin more conductive to electricity.  He waited for the next blast of agony, but instead felt a glass bottle against his lips.  A hand fisted in his hair, tilting his head back, and he swallowed, warm cola sliding down his raw, parched throat.

Electrolytes.  Caffeine.  Calories.

All would help him stay alive.

Then his tormenter spoke to him, as always in Spanish.  "You are dying, cuñado.  And for what?  You are alone now, forgotten, left without even a dog to bark at you.  Tell us who has the cocaine and where we can find them.  Then your torment will end.  There will be no more pain, only sleep."

Zach fought off a wave of despair.  "¡Vete a la verga!"  Fuck off!

The bastard chuckled, but Zach knew he wasn't really amused.  They'd tried to break him and had failed.  There'd be a price to pay when Cárdenas got the news.

Creaking hinges.  Footsteps.

And Zach knew she was there.  He could feel her presence, hear her rapid breathing.  Hell, he could even smell her, something sweet in a world of filth.

Natalie.

"Tráela aquí."  Bring her over here.

What the hell?

Zach's head came up.  Somehow, he drew himself to his feet, his hands clenched around the chains for support, his heart thudding hard in his chest.  Why had they brought her in here?  Were they going to torture her to get to him?

Over my dead body.
6.  Fun questions:  What are you watching on TV these days? (Or what are you reading?)
Recently, I read Love at First Flight by Marie Force, a contemporary romance that I really enjoyed, and Something About You by, well, you. I loved Cameron and Jack. Loved them! I love your voice, and I found your sense of humor very enjoyable. I don't often laugh out loud while reading anything, but SAY cracked me up. I'm about to start Charlaine Harris' new release, Dead Reckoning, because I'm going to be interviewing her for the newspaper soon.
Funny story made short: I write for Penguin. So does Charlaine Harris. The PR folks sent a press release about her new book to the journalist version of me. I called them, and we had a good laugh about it (my publicist sits across the hall from her publicist). I decided it would be a lot of fun to interview her. My editor sent me an email telling me that everyone was giggling about this.
7.  What are you listening to on your Ipod?
I make mixes for each novel I write. Music is so important for my writing, perhaps the most important thing after sleep and research. (And coffee. Can't forget coffee.)
Right now, I'm working on my next historical, the third book in the MacKinnon's Rangers series, so during my writing time I've been listening to a lot of Old Blind Dogs, my favorite trad Scottish folk group, as well as historical soundtracks, especially The Last of the Mohicans and The War That Made America.
When I'm not writing, I've got a post-grunge rock mix that includes Shinedown, Staind, 3 Doors Down, Daughtry, Linkin Park, Breaking Benjamin, 3 Days Grace, Evanescence, Puddle of Mudd and others. These are all leftovers from my play list for Breaking Point that I haven't gotten sick of yet.
I'm always, always searching for new music.
8.  What is your biggest weakness (shoes, purses, chocolate, etc.)?
Oh, definitely chocolate.
I lived in Denmark for three years and love really creamy European-style milk chocolate, such as Marabou Mælkchokolade, or marzipan and chocolate, such as Anton Berg, a Danish favorite of mine. Fortunately, neither of these is widely available in the U.S. My sister lives in Stockholm, but she never sends me any of this stuff. This is an issue between us, as you might imagine. Bad sister!
9.  Complete this sentence: One fun thing about me that people might not know is……
I'm a complete Trekkie and a Ringer. I love both Star Trek (all of them) and Lord of the Rings (books and movies). And, yes, I know a word or two Klingon and more than a few phrases in Elvish, too. Is that fun, or is this just scary?
* * *
Well, there you have it, folks.  Pamela has generously offered to give away a copy of Breaking Point to one lucky person who leaves a comment below.  And for those of you who'd like to find out more about Pamela Clare's books, you can check out her website.  Good luck!