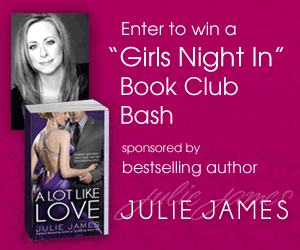 In my new book, A Lot Like Love, there are a lot of things to admire about the heroine, Jordan. For starters, she's wine and business savvy, has excellent fashion sense, and she hosts a monthly "Girl's Night In" with her best friends. They bring takeout dinner and dessert, and Jordan provides the wine. Who wouldn't like an evening of excellent food, good wine, and the best of friends?
My question to you is this, if you had a "Girls Night In" book club, what would you serve? What are some of your favorite pairings of inexpensive and friendly wines or other beverages with either takeout cuisine or a fun and easy recipe of your own? (And yes—dessert counts!) As a little incentive to get even the shyest readers to share, let's do a contest. The grand prize will be an awesome "Girl's Night In" Book Club Bash that includes a 24pc. box of Godiva Bakery Dessert Truffles, a $50 Visa Gift card (to help cover the cost of refreshments) and twelve signed copies of A Lot Like Love, plenty for you and your own close circle of book-loving friends.
But even if you aren't the lucky winner, everyone will get something: I'll put together some of your best recommendations for a special PDF of "Girls Night In" Book Club Menus, featuring your recipes, wine pairings, and takeout recommendations. It'll be posted here as a free download for everyone to enjoy on Tuesday, March 15.
So to get things started, I'll go first. . . one of my favorite food/wine pairings is a full-bodied cabernet sauvignon with gnocchi alla vodka. Want a specific suggestion? Check out the Excelsior Cabernet Sauvignon from South Africa. This cab is definitely full-bodied, but I like my wine the way I like my heroes: bold. Consistently named a Wine Enthusiast "Best Buy," the Excelsior has flavors of blackcurrant, blackberry, dark chocolate and spice, is perfect for parties and for everyday drinking (it even works with pizza) and is a steal at $9 a bottle. Like a really good book, this is a wine I love to tell everyone about.
Now it's your turn. Enter the contest here, or post a comment below, and share one or more of your favorite pairings and you and your friends could win the grand prize package for your own "Girls Night In" Book Club gathering. And don't worry—you don't have to post a specific wine to enter the contest, although that's certainly encouraged. The point is for all of us to have fun and learn about some fun menu pairings!
The contest will remain open until 10pm CST on March 11th. The winner, and the "Girls Night In" Book Club Menus, will be posted on March 14th.
Good luck to all!